Action Man with Eagle Eyes, Gripping Hands, and Flocked Hair: Features & Innovations from 1966 to 1978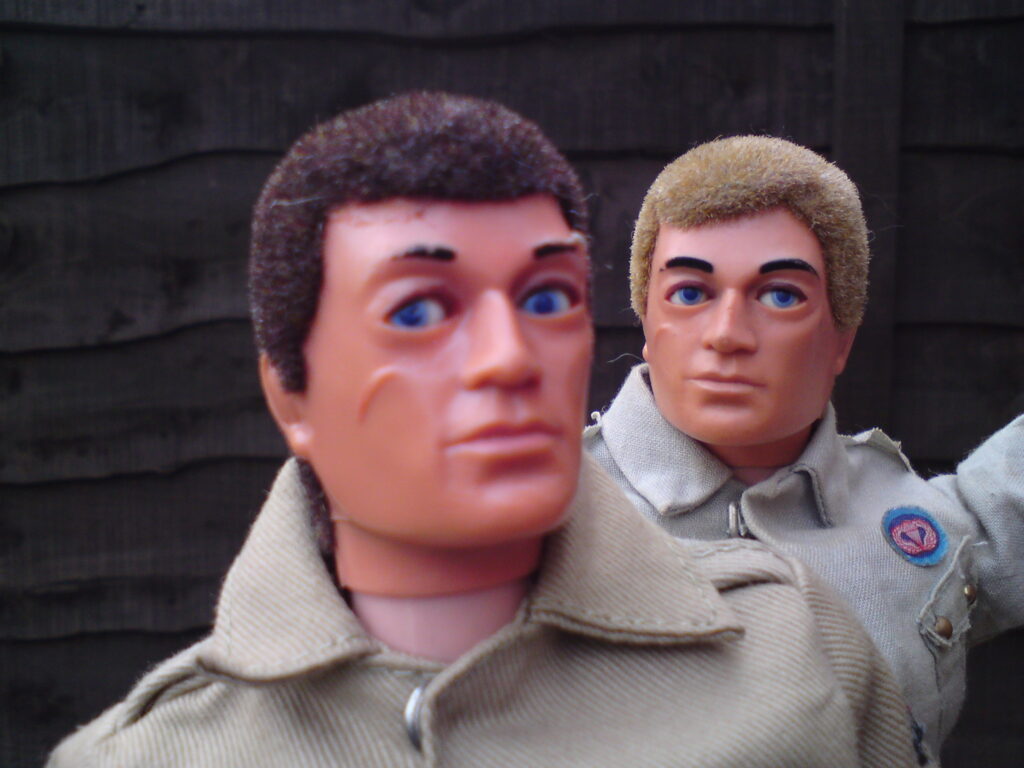 Before the iconic Action Man with Eagle Eyes came to be, it was pretty identical with Hasbro's G.I. Joe figure. In 1966, Palitoy released the first Action Man figure in Britain. This action figure was inspired by G.I. Joe and was designed to be a realistic and poseable action figure for boys. In fact, Action Man was a licensed version of Hasbro's G.I. Joe made for the British market.
Over the next 12 years, Palitory would release several different versions of the Action Man figure, each with new features and innovative designs, including the iconic Action Man with Eagle Eyes. Here is a look at some of the most notable features and innovations of the Vintage Action Man figure from 1966 to 1978.
The Construction of the Action Man Figure
As with Hasbro's figures, Palitoy's Action Man had a vinyl-painted head that sometimes shrunk and got harder. He also had a livid scar on the cheek, similar to G.I. Joe Talking Commander figures. However, Action Man had a pinkish complexion and smaller limb sections compared to G.I. Joe, making the action figure shorter. Elastic held the legs together through crimped metal eyelets through which rivets passed, and metal hooks held the neck post and shoulders in place.
Action Man's bodies are entirely made of plastic and are connected to each other by a rubber connection during that time, so they are prone to deterioration. Because the action figures are hand-painted, it is common for variations in skin complexion and mistakes in eye colour.
The "Gripping Hands" Feature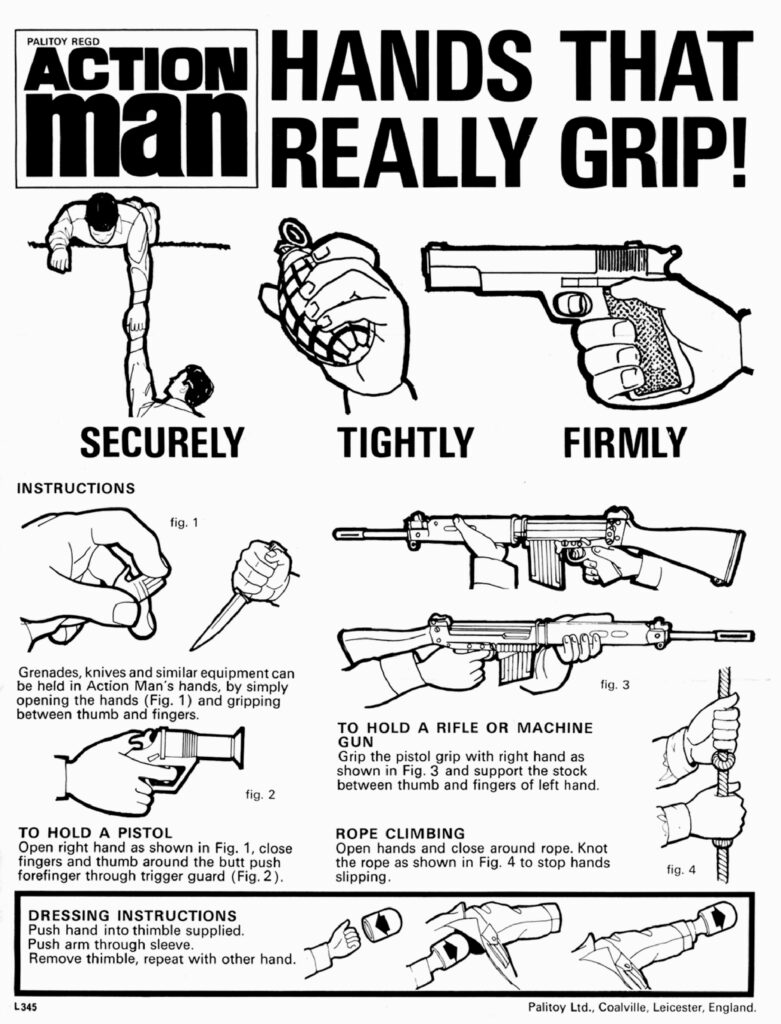 1973 saw the introduction of Action Man's gripping hands — hard moulded hands were replaced with a flexible vinyl version. This enabled Action Man to actually grip weapons and other accessories without them falling off.
Chief Designer, Bob Brechin, used the model of his left hand to design and sculpt these hands, which were invented by Bill Pugh. Every boxed figure came with a thimble so that the fingers could be protected when changing the outfit.
One thing for collectors to note is that Action Man figures before 1978 were more prone to breakdown. Particularly, flex hands made between 1973 and 1977 are susceptible to hardening, cracking, discoloration, breaking fingers, and shredding.
Flocked Hair Innovation
During the 1970's, Action Man introduced a form of flocking that looked like a short "fuzzy" hairstyle. Bill Pugh was inspired by a TV show that featured a company that produced bottles using flocked fibre, and he contacted them for the electrostatic process. This gave Action Man's hair some realism and replaced the plastic hair top. Some figures the the Sailor and Adventurer even got flocked beards as well!
With this change, Action Man figures were also given blue eyes. This hair innovation in Palitoy's Action Man would be adopted by G.I. Joe within a year. For collectors, do note that there are rare combinations of Action Man figures with flocked hair and brown eyes. But the more common variant is the blue-eyed one.
Action Man with Eagle Eyes: Moving Eyes Mechanism
As a result of Ptaszek and King's invention, Action Man with "Eagle Eyes" came to be in 1976. With the aid of a simple lever at the back of the head, the eyeballs can be moved back and forth – an improvement over the fixed stare of the original.
Because of the new Action Man with Eagle Eyes, the figures now came with a slightly larger head and the loss of original facial detailing features that had existed for more than a decade. The new head was only available with blonde or brown hair and blue eyes.
Trademarks and ID Tags
During the 1966-1977 period, Action Man was tagged with "Made In England By Palitoy Under Licence From Hasbro® 1964".
Like GI Joe, early Action Man figures came with a thin stamped aluminium dog tag. Palitoy developed their own design in 1970 made of hard plastic with bullet holes passing through the logo. It was cast in grey or green. This was used until the 80's. Standard action figures have their tags attached to small chains while talking action figures have them attached directly to the pull cord.
The Bottom Line
The Vintage Action Man figure from 1966 to 1978 was truly ahead of its time. Its features and innovations, like the Action Man with Eagle Eyes, set it apart from other toys of its day and paved the way for the action figures we know and love today.
If you're a fan of vintage toys, or just want to see what all the fuss is about, be sure to check out a Vintage Action Man Figure for yourself. You won't be disappointed.
Ready to collect Vintage Action Man?
Check out the curated vintage range and marketplace for pre-owned or mint-condition Action Man.