German Staff Officer (1974 to 1977) – Vintage Action Man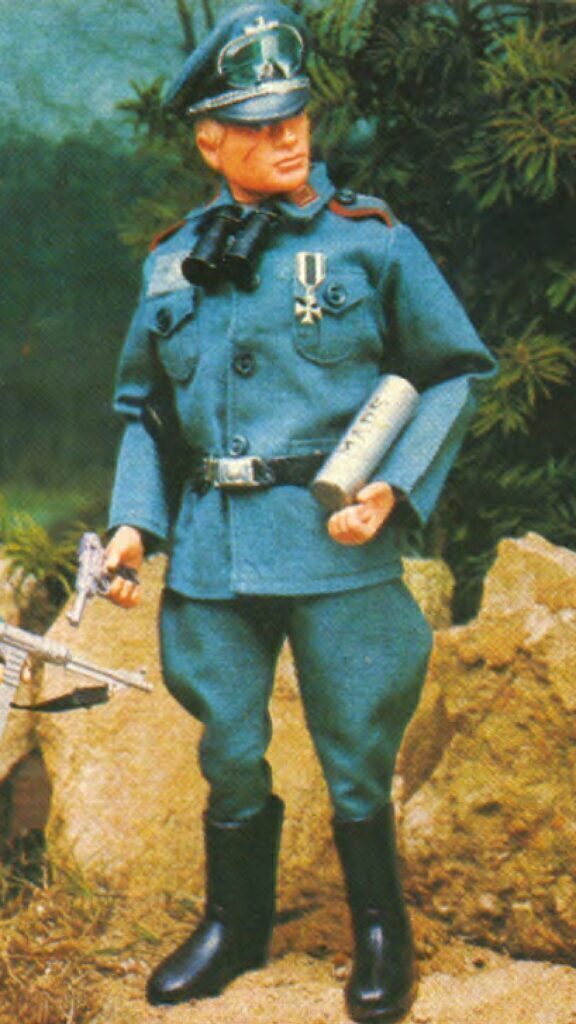 Despite being a part of the 'Soldiers of the World' (SOTW) range of 1974, the Action Man German staff officer outfit is not covered in the Intelligence Manual.
When it comes to collecting the German Staff Officer, keep a look out for a number of quirks and variations. For instance, it is quite common for the belt to become loose since the map case is often slid into the belt, stretching the plastic. Also, the jacket comes in a variety of colours, from dark green to turquoise. Likewise, the buttons, as well as the pocket shapes (round-bottomed or rectangular) in this figure, may vary in colour, shape, and opacity.
Again, this uniform comes in a number of versions; refer to reference books for details. For all German uniforms produced by Palitoy during the Second World War, certain badge graphics have either been distorted or flipped to avoid offending anyone.
Common Features of the German Staff Officer (Action Man)
Green peaked cap
Goggles with elastic strap
Iron cross medal
Binoculars
Green tunic with badges
Green riding trousers
Black plastic belt with 2 bullet pouches
Map case with map holster
Luger pistol
Black riding boots
Marketplace: Collect the German Staff Officer today!