Top 5 Amazing Vintage Action Man Vehicles Used in Missions
A hero isn't complete without an outfit, accessories, and a vehicle. Without a ride, Action Man couldn't shy away from the face of danger. From snow sledges to turbo copters, here is a list of Action Man vehicles used in missions.
1977 Sea Wolf Submarine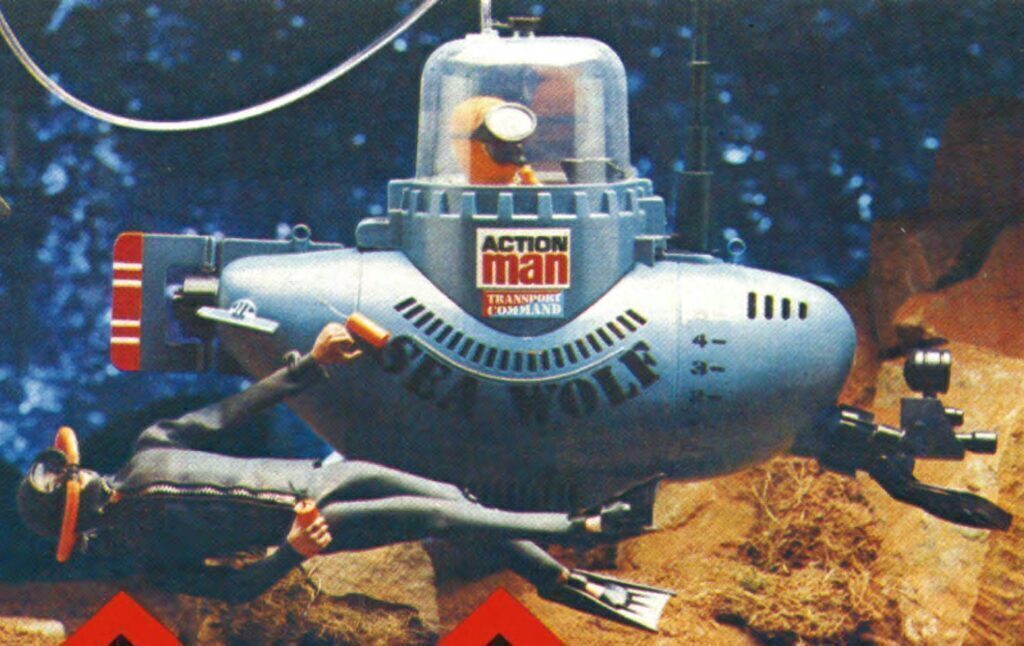 First on our list of Action Man vehicles is the Sea Wolf. When Palitoy released the Sea Wolf Submarine in 1977, boys went berserk and wanted to test the floating and diving experience themselves. It was impressive, considering it could be submerged and would resurface with squeezable air pump controls.
The submersible came equipped with a grab arm, camera, rear fins, and matching decals that you can apply. It also came with an instruction manual showing how to use the rudder and diving planes to connect the pump lines to operate the sub's buoyancy.
The Sea Wolf was best paired with the 1966 Navy Frogman.
1979 Snowcat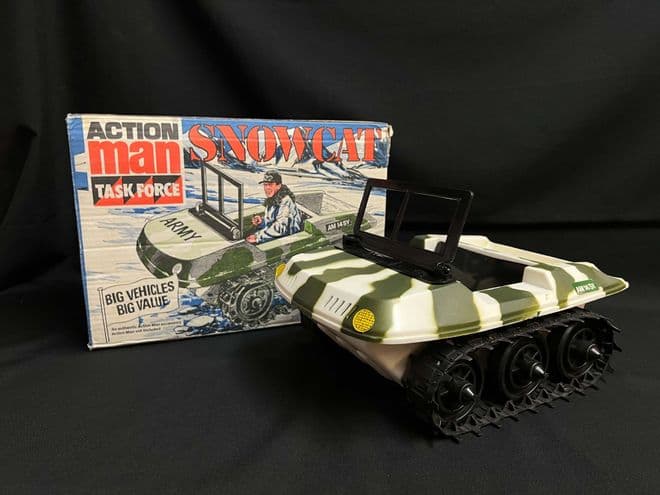 The 1979 Army Snowcat came with Palitoy's Task Force fleet complete with stickers and instruction manuals. Most kids used the these Action Man vehicles for what Action Man used them for, so most Snowcat stickers are wrinkled or torn.
The Snowcat was big enough for an Action Man soldier to fit in the driver's seat. The vehicle was large, robust, and fun. Since most Snowcats are hard to find in pristine and mint condition, complete and unopened sets hold tremendous value.
It also had a French version named the Chenillette Tout Terrain with the same Action Man accessories.
1973 Turbo Copter
Remember when you strapped your favourite Action Man figure on the Turbo Copter and whirred his rotor blades? It entertained you for hours with endless fun and realistic jet sounds. While the rotor blades didn't make your Action Man fly, you still zoomed around your room with it.
Palitoy introduced the Turbo Copter in 1974 with realistic details added to it. Since the rotor blades are ratchet-operated, you can control how much the blades spin. There were two versions of the harness,  and both could hold any Action Man figure. However, the perfect man for the job would be Helicopter Pilot.
1969 Jungle Explorer River Craft
As time passed, Action Man became adventurous. More bold and daring characters came to life as Palitoy paved a new route for ideas. The craft came with Action Man accessories like a motor with two colour variations, supply boxes, and joining clips.
The best feature of the 1969 Jungle Explorer River Craft is its canoe and boat formations. The clips join the craft into a canoe or two boats that can fit up to two Action Man Jungle Explorers. Its motor can also turn on and off, and you can float it on water too.
1969 Explorer Sledge and Dog Team
The 1969 Explorer Sledge and Dog Team is unique. No two Husky dogs are the same because all models are hand-airbrushed, so each is a different pattern. The set came with a sledge, three Husky dogs, their harnesses, four supply boxes, a rope, and a mileometer wheel. It was specially made for Polar Explorer Action Man.
Since then, collectors have attempted to get their hands on the Explorer sets. However, some are missing parts. So if you're planning on selling a complete set, you could get a fortune.
The Takeaway
Action Man isn't himself without a ride. As his adventures became bolder, so did the Action Man vehicles. He can handle any situation, whether on land, sea, or air.
And if you're planning on collecting all sets or one terrain, there are FAQs and references online that show all of Action Man's editions.
Marketplace: Vintage Action Man Vehicles